Self-Serve Reload Machines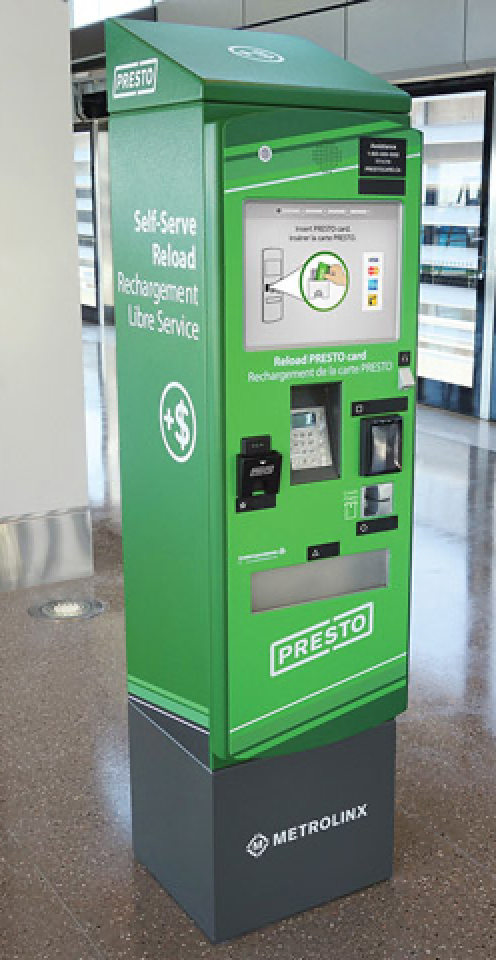 PRESTO customers are now able to use our Self-Serve Reload Machines to instantly load funds onto their PRESTO card using credit or debit.
The new Self-Serve Reload Machines allow PRESTO customers to:
Load value instantly with a credit card or debit
Pickup online loads and update card balance
Check balance and transaction history
Activate online activity, such as autoload or registration
PRESTO's Self-Serve Reload Machine also offers audio support for the visually impaired via headphone jack.
You can find our Self-Serve Reload Machines at the following locations*:
Toronto Transit Commission (TTC)
You can now load a TTC Monthly Pass at Self-Serve Reload Machines in TTC subway stations.
Bathurst
Bay
Bayview
Bessarion
Bloor-Yonge
Broadview
Castle Frank
Christie
College
Coxwell
Davisville
Don Mills
Dufferin
Dundas
Dundas West
Dupont
Eglinton
Eglinton West
Ellesmere
Finch
Greenwood
High Park
Islington
Jane
Keele
King
Kipling
Lansdowne
Lawrence East
Lawrence West
Leslie
Main Street
McCowan
Midland
Museum
North York Centre
Old Station
Osgoode
Ossington
Pape
Queen
Queen's Park
Rosedale
Royal York
Runnymede
Scarborough Centre
Scarborough Town
Sheppard-West
Sheppard-Yonge
Sherbourne
Spadina
St Andrew
St Clair
St Clair West
St George
St Patrick
Union
Victoria Park
Warden
Wellesley
Wilson
Woodbine
York Mills
Agincourt
Ajax
Aldershot
Allandale
Appleby
Aurora
Barrie
Bay East Teamway
Bay West Teamway
Bloor
Bradford
Bramalea
Brampton
Burlington
Centennial
Clarkson
Danforth
Dixie
East Gwillimbury
Eglinton
Exhibition
Gormley
Jane & Hwy 407
Kipling
King City
Langstaff
Lisgar
Long Branch
Malton
Maple
Markham
Meadowvale
Milliken
Mimico
Mount Joy
Mount Pleasant
Newmarket
Old Cummer
Oriole
Pickering
Port Credit
Richmond Hill
Rouge Hill
Rutherford
Scarborough
Square One Bus Terminal
St Catharines
Streetsville
Union Bay East Teamway
Union Bay West Teamway
Union York Concourse
Union York West Teamway
Unionville
Whitby
York Concourse
York West Teamway
Mississauga Transit (MiWay)
You can now load funds on your card at Self-Serve Reload Machines.
Malton Community Centre
South Common Community Centre
Square One City Centre Transit Terminal
*Self-Serve Reload Machines are part of a phased roll-out and are currently available at select TTC, GO and UP Express stations. These devices may become available with other transit agencies in the future subject to availability and discussions between PRESTO and individual transit agencies.